Monks Copse - Sold
Details for this wood
Guide price: £49,000 - Freehold
Size: About 3½ acres

Location: Okewood Hill, Rowhook, near Horsham, West Sussex
OS Landranger: 187
Grid ref: TQ 128 356
Nearest post code: RH5 5QA
Contact: Richard Scholfield
Phone: 07811 818 277
Email: [email protected]
Email to a friend
Description    Tucked away in the back-waters of West Sussex, Monks Copse is a delightful ancient and semi-natural woodland set in a landscape of small fields and woodlands. Two small seasonal streams meeting at the southern edge of the wood have over the years worn their way through the ground to form two ghylls - a ghyll is defined as a wooded ravine. These and the pond make this an exceptional woodland.
Good quality oak has hornbeam and hazel coppice, silver birch and alder as companions all accompanied by bluebells and ransoms in profusion.
The route of Stane Street, the Roman road leading from Chichester to London passes through the eastern side of the woodland. Roman roads were engineered with stone base and surfacing, hence Stane (= stone) Street. Who knows, there may be evidence of the road beneath the surface soils.
Boundaries  are shown with orange markings on free-standing posts and trees. They are: the trackside to the east, the fence line to the north and free-standing posts along the west and south.
Access   From Honeywood Lane, a public highway, there is a right of way along Monks Lane (a private road). The right of way continues along the forest track as far as Monks Copse. Maintenance is shared and according to use made.
Covenant   The purchasers of this woodland will be asked to enter into a covenant to ensure the quiet and peaceful enjoyment of adjoining woodlands and meadows.
Maps   For full-scale maps click HERE and print out for your visit. The Ordnance Survey's very useful open source maps can be accessed HERE.
Our Maps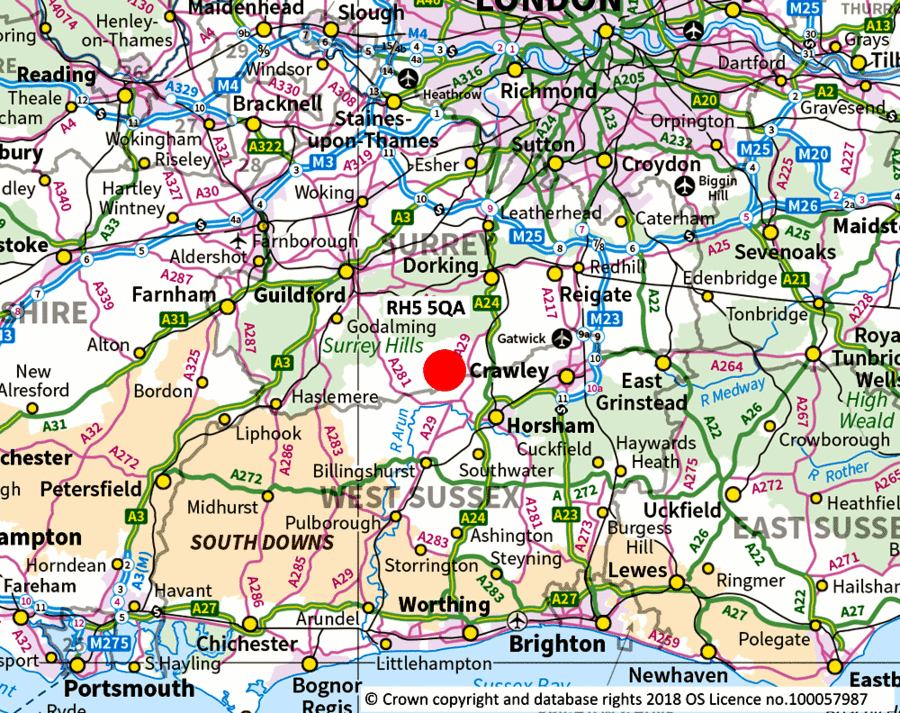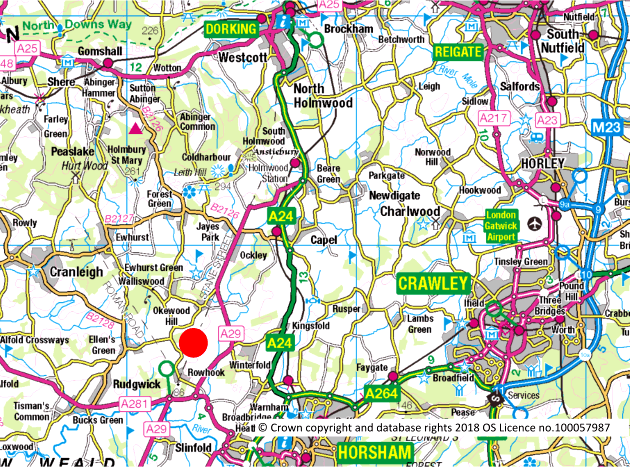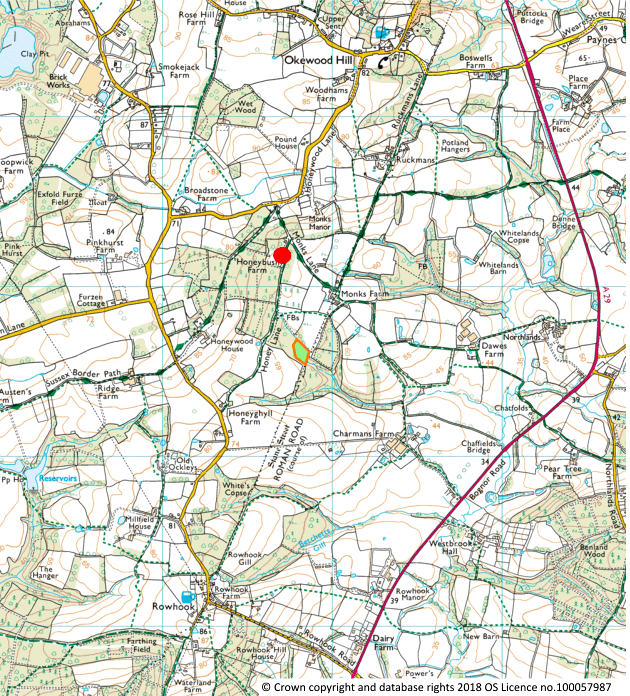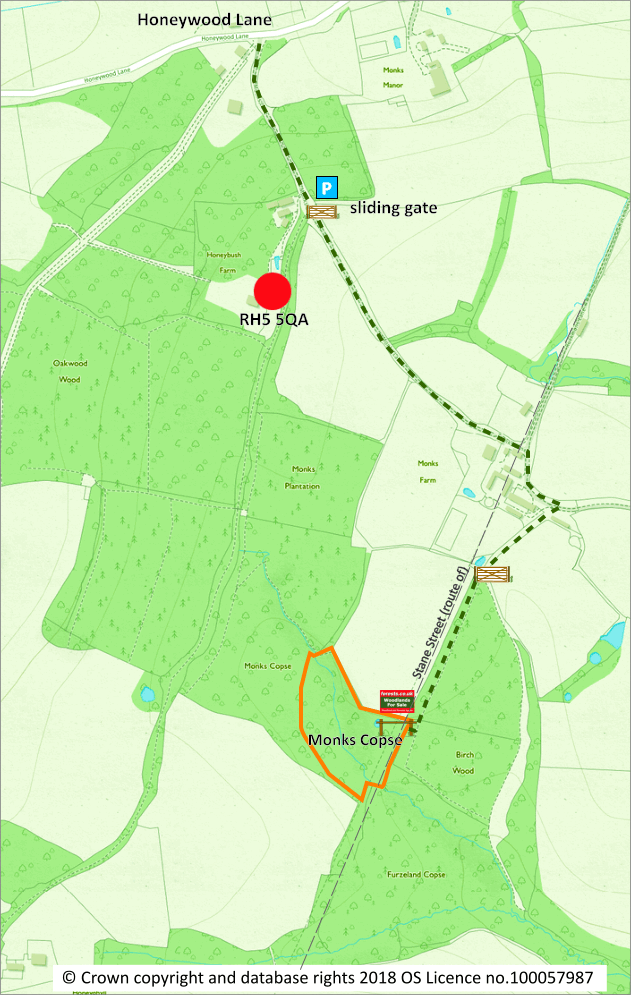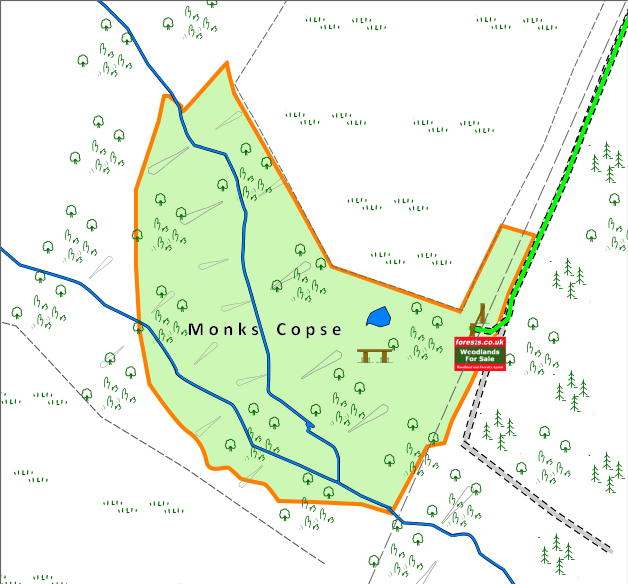 Directions
Monks Copse is about 20 mins drive north of Horsham and about 25 mins south of Dorking.
Click here for Bing Maps Directions enter your own postcode, location coordinates are already entered, and click on the "Directions" box. This location is where you can park. This is Monks Lane, a private road.
Satnav: the postcode RH5 5QA is for the point shown by the red dot on the location maps, just off Monks Lane. Coordinates for satnav are: N51.114665, W0.390202.
Using these maps, postcode or coordinates arrive at the place to park while viewing. This is just outside the automatic sliding gate.
Walk down this tarmac track past the houses
turn sharp right after the implement shed
then left
look for the large oak tree on the right
turn right just after this, with the stables on the left
the track is ahead (no longer tarmac)
follow this down to the open metal gate and enter woods
go through this gate
continue down the wood track and look out for the ride-stop and signs on the right.
This is Monks Copse.
We hereby give notice under section 21 of the Estate Agents Act 1979 of interest in the land being sold.